James Boswell's 'Life of Johnson': An Edition of the Original Manuscript in Four Volumes; Volume 2: 1766–1776
Editors: Bruce Redford with Elizabeth Goldring
Edinburgh: Edinburgh University Press; New Haven: Yale University Press, 1998
ISBN: 0748606068; 9780300079692,
Hardback, xviii, 303 pages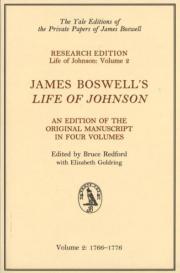 This volume, the second of four in the Yale Boswell Editions' manuscript edition of the Life of Johnson, carries the genetic transcription from 1766—the year in which Boswell returned to Scotland after his eventful Grand Tour and then renewed his friendship with Johnson in London—to 1776. In the spring of that year Boswell and Johnson travelled to Oxford and then to the English Midlands, visiting Birmingham, Lichfield and Ashbourne, on which jaunt the biographer, having already recorded in his notes and journals many of the activities, thoughts and conversations of Johnson as a mature and established man of letters, had the opportunity to observe him in the scenes of his youth. The decade here preserved (in intricate drafts and revisions) was a rich and various one for both men: it strengthened the personal bonds of friendship as well as the biographical partnership. Boswell, in 1768, established himself as a writer with considerable public fame: he published his popular and acclaimed Account of Corsica, and continued his exertions in the Corsican cause. He worked busily as a young advocate in Edinburgh, married (in 1769), but afterwards began a series of exhilarating spring jaunts to London, where, among many other interests and pursuit, he recorded Johnson's activities and conversation, and where, in 1773, he was elected a member of The Club. In the 1770s, Johnson published his most significant and controversial political pamphlets, revised editions of his Dictionary and Shakespeare, and (in 1773) undertook with Boswell the celebrated tour of Scotland's Highlands and Western Isles (his account of which he published in 1775). As the documents here transcribed disclose, the remarkable coalition of Boswellian intelligent assiduity and Johnsonian 'colloquial prowess' produced a bountiful harvest.
The transcription of Boswell's labyrinthine manuscript—consisting of a basic draft and a wide array of supporting documents (all heavily and at various times revised, and the whole of which served as a printer's copy)—reveals Boswell's maturing biographical procedures. Here, for the first time in the manuscript, Boswell's own journal and notes are regularly his chief source. The transcription for this period, employing the complex but accessible method devised for the series by Marshall Waingrow (whose Volume 1 of the edition appeared in 1994), shows Boswell's compositional selections and processes at every stage. It restores lost or deleted material, identifies compositorial and other errors, and shows at all points Boswell as a gifted and judiciously nuanced self-reviser. The four-volume sequence is designed to stand as a research supplement to the Hill-Powell version of the Life.
Bruce Redford is University Professor at Boston University. He edited the Hyde Edition of The Letters of Samuel Johnson and is the author of Dilettanti: The Antic and the Antique in Eighteenth-Century England (2008) and of Designing the Life of Johnson (2002).
Elizabeth Goldring is an Associate Fellow at the Centre for the Study of the Renaissance, Warwick University.
Reviews
[T]his is not a text for continuous reading: it is rather a means of scrutinizing through the detail Boswell's intentions and methods as biographer. Every page is sprinkled with the editorial sigla devised for Volume One, through which we can trace his hesitations, insertions, revisions, transpositions, and the care with which he creates contexts.… The present volume contains several pages of Errata in Volume One; detailed textual notes; and an excellent analytical Index.  It is a fascinating resource for anyone interested in Boswell's methods, and, taken with the associated documents, would provide worthwhile exercises for literary students in tracing the author's seriousness of purpose. A remarkable achievement, then, but to be dealt with as Johnson advised Boswell to read Du Halde's China (p. 29): "That is to say, consult it." 
Ian McGowan, Studies in Hogg and his World, 2000