James Boswell: The Journal of His German and Swiss Travels, 1764
Editor: Marlies K. Danziger
Edinburgh: Edinburgh University Press; New Haven: Yale Univerisity Press, 2008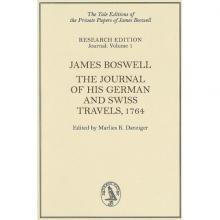 ISBN: 9780748618064; 9780300123609
Hardback, liii, 436 pages
This volume, first in the Yale Research Series of Boswell's journals, covers his emotionally eventful youthful travels through the German and Swiss territories, from mid-June 1764 (after his law studies in Utrecht) to New Year's Day, 1765, when he crossed the Alps for the next stages of his European tour, in Italy, Corsica and France. The volume is the Research Series parallel to Boswell on the Grand Tour: Germany and Switzerland, 1764, ed. F. A. Pottle (1953), whose annotation the editor, Marlies K. Danziger, has greatly deepened, expanded, supplemented and in many cases corrected. In keeping with the editorial policies of the Research Series, it restores Boswell's original spelling, punctuation and paragraphing (and his generally less than perfect French). The editor's detailed notes illuminate the contemporary political and historical context as well as a vast array of contemporary issues, concepts and personalities no longer familiar to modern readers (especially English-speaking ones). As well as the text of the fully-written journal, the volume includes Boswell's personal daily memoranda and his frequently revealing 'Ten Lines a Day' poems; the autobiographical 'Ébauche de ma vie' written for Rousseau, along with its various drafts, outlines, and attendant correspondence; his detailed expense accounts (a window on the fluctuating currencies and erratic economy of a Europe not yet formed into our modern nation-states); and four maps, adapted from contemporary cartographic records, illustrating Boswell's complicated and often arduous itinerary.
Boswell's European travels followed his exhilarating stay in London of 1762–1763 and his mostly bleak winter in the United Provinces in 1763–64. Though forever to be best known for his later accounts of his principal biographical subject, Samuel Johnson, Boswell has emerged since the recovery of his private papers as a compelling autobiographer, and here shows his fascination with, and abilities to record with typical liveliness and percipience, men and women across a strikingly diverse social range. The European journal, which Boswell had unfulfilled hopes later in life of revising and publishing in the manner of his Corsican and Hebridean diaries, records the young Scot's quest for experience in hopes of a cosmopolitan broadening, cultural enrichment, and religious and spiritual security, and conversations culminating in his deeply gratifying meetings with Rousseau and Voltaire. At the same time, it documents in close personal detail an unstable Europe rebuilding and restoring itself a little more than a year after the end of the Seven Years' War, a Europe whose quest for stability amid ominous political and religious fluctuation mirrors and parallels the diarist's own.
Marlies K. Danziger is Professor Emerita of English, Hunter College and the Graduate School, City University of New York.
Reviews
This Journal was first published in 1928 by Geoffrey Scott in the Private Papers of James Boswell and was re-edited in 1953 by F.A. Pottle for the "trade" or "reading" edition, where it forms the first volume of Boswell on the Grand Tour. The present edition, edited by Professor Marlies Danziger as the first in the Yale Research Series of Boswell's Journals, offers a revised and more complete text, including Boswell's daily memoranda, along with his "Ten lines a day" verses. It respects the original spelling and punctuation of the manuscripts (including those in imperfect French) and offers comprehensive critical, historical and linguistic notes. There are also valuable appendices, which include writings related to Boswell's meeting with Rousseau and maps illustrating his itinerary.
The editing of the work is to the highest standards. The introduction is informative on the historical background and perceptive on Boswell's character and ideas (including his hypochondria and religious beliefs). The editorial decision to include the memoranda and manuscript drafts offers the reader invaluable sources for the study of how Boswell turns raw material into fluent prose. This is an edition offering a fascinating text which will be read for its own sake and, thanks to the comprehensive notes and the excellent index, it will be consulted as a valuable work of reference, both by students of Boswell, and those with a more general interest in the period.
Cecil Patrick Courtney, The Newsletter of the Eighteenth-Century Scottish Studies Society, Spring 2011
This first volume of the Research Edition is a source book for the earlier volume—and more besides: scholars of Boswell and the eighteenth century will resort to this version, for its accuracy, detail, complexity and fullness of commentary.
Paul Tankard, University of Otago, The Southern Johnsonian, April 2011