The Correspondence of James Boswell with James Bruce and Andrew Gibb, Overseers of the Auchinleck Estate
Editors: Nellie Pottle Hankins and John Strawhorn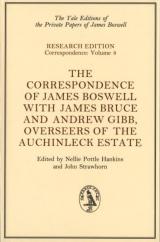 Edinburgh: Edinburgh University Press; New Haven: Yale Univerisity Press, 1998
ISBN: 0748606246; 0300076189
Hardback, lvi, 276 pages
This volume contains the surviving correspondence of James Boswell, who became ninth laird of Auchinleck in Ayrshire in 1782, with his estate overseers James Bruce 1719–90 and Andrew Gibb (1767–1839). Bruce, succeeding his father, served the estate from 1741 until his death. His sister, Isabell ("Bell") Bruce, was nurse to Boswell's children and afterwards his housekeeper in London. Relations between the Bruce and the Auchinleck family were close and long standing, and Bruce, twenty-one years Boswell's senior, was an avuncular friend and tutor to Boswell in his youth, meditating the vexed relationship between him and his father and playing an integral part in Boswell's education in estate management. Gibb, just 22 when appointed to succeed Bruce, enjoyed a less close but still cordial relationship with the laird, and eventually served Boswell, his son, and his grandson for a total of 46 years. Boswell, though born in Edinburgh and later drawn powerfully to life in London, remained intensely proud of his ancestral estate and closely engaged in its affairs. Lacking skill and experience in farming, he wisely sought the advice of such figures as Alexander Fairlie, promoter of the Fairlie Rotation, and Bruce Campbell his kinsman, who played a major role in developing the new Ayrshire breed of cattle. As the volume editors note, he "required a frequent sometimes even weekly, written report from his overseers [and] regularly replied with detailed instructions, even when he was otherwise absorbed in matters literary, legal, social, or political." The letters in this volume present Boswell in a light perhaps new to those who know him as diarist, advocate, and biographer of Samuel Johnson. He appears here as one of the "gentleman improvers" of a largely agricultural southwestern Scotland on the brink of Industrial Revolution, and the volume a contribution to regional social and economic history, offers an extensive and detailed case study of estate life  and management during this important transitional period.
Nellie Pottle Hankins (1904–1993) sister of Frederick A. Pottle, founding editor of the Yale Boswell Editions, held teaching appointments at Spelman College, Atlanta, and the Universities of New Hampshire, Kansas, Massachusetts, and Maine.  
John Strawhorn (1922–1997) an authority on Ayrshire's history and culture, was the author of Ayrshire, the Story of a county (1975). As author, co-author, or editor, he published numerous books and articles on Ayrshire, particularly its eighteenth-century history.
Reviews
[T]hese letters, which are about routine events in estate and local affairs … provide a corrective portrait [to the London Journal, 1762-63], showing Boswell's pride and responsibility as landed proprietor, wanting regular reports during absence ("I shall do all the good I can as Laird consistent with my love of London" (p. 53)) and giving detailed instructions: "let no trees be cut without first having express orders, and keep an exact account of their number quality and application" (p. 129).… The annotation is, under Research Edition policy, copious; the text a conservative transcription.… There are detailed appendices on the estate lands and tenants, the overseers and their families (Gibb's brother became Glasgow Professor of Oriental Languages), a glossary, and estate maps.… This is not a book for continuous reading, but a source for the social historian.
Ian McGowan, Studies in Hogg and his world, 1999