Catalogue of the Papers of James Boswell at Yale University (in three volumes)
Marion S. Pottle, Claude Colleer Abbott, and Frederick A. Pottle
Edinburgh: Edinburgh University Press; New Haven: Yale University Press, 1993
ISBN: 0748603999; 0300054106
Hardback, 3 volumes, 1440 pages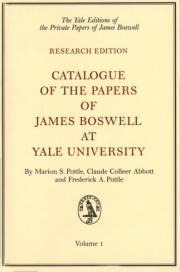 This three-volume work provides a detailed description of the papers James Boswell held at Yale University. The collection, containing over 10,000 items, and part of the Beinecke Library's larger Boswell Collections spanning six centuries, are remarkable for their range, compendiousness, and variety, and offer an unrivaled window on eighteenth-century life and society. 
Thoroughly indexed analytically by name and place, the Catalogue offers a wealth of new information not only about Boswell but also about his life and times, and the many people, across the entire social range, with whom he was acquainted.
Volume I is devoted to journals, manuscripts and letters written by Boswell. Volume II deals with letters written to Boswell and relevant manuscripts not by Boswell. Volume III continues Volume II and adds printed matter, expense accounts, legal papers and the index. Items are described, summarized and quoted.
Subjects illuminated in the Catalogue include travel, education, law, literature, theatre, political patronage, government, economics, marriage, prostitution, religion and relations among the social classes. The three-volume set affords a uniquely valuable research tool and reference work for all literary scholars and historians of the eighteenth century.
Marion S. Pottle (1897–1992) was, until her retirement in 1983, the Yale Collection's cataloguer. Claude Colleer Abbott (1889–1971) was Professor of English Language and Literature Emeritus at the University of Durham.
Frederick A. Pottle (1897–1987) was Sterling Professor of English Emeritus at Yale University; he served as Chairman of the Boswell Editions from 1949 to 1979 and, in addition to his biography of Boswell's earlier years, edited many of his journals including Boswell's London Journal.
Reviews
[T]he value of an annotated access to an archive of such a scope is obvious.  Everyone who works in the eighteenth century should examine this volume, which is the proper companion to the great Yale edition of Boswell.
T.H. Howard-Hill, Papers of the Bibliographical Society of America, September 1993
This is truly a monumental achievement.  Much more than a great big list, it is an impressive piece of scholarship in its own right, and one which was well over forty years in the making.… There are some 10,000 items in the catalogue: 1152 pages of text proper; 103 pages of index; and 27 pages of preliminaries.  That the text is so long is due to the bibliographically descriptive notes and the 'minutes of content' given to each entry.  As the Boswell Editions Newsletter put it in November 1993, "the summaries of content are detailed enough to enable researchers to hunt efficiently without diminishing the thrill of the chase."
[W]eighed against the magisterial splendour of the whole, [there can be] but minor criticism of one of the greatest bibliographical achievements of our century.
Thomas Crawford,  Scottish Literary Journal, Supplement 41, Winter 1994
The Catalogue uses 1,152 pages to describe those papers at Yale most directly related to James Boswell the biographer.… The items included are divided into seven categories: Boswell's journals (J); manuscripts by Boswell, other than journals and letters (M); letters written by Boswell (L); letters written to Boswell, together with other letters and manuscripts by these correspondents (C); printed non-manuscript materials (P); accounts and other financial papers (A); and legal papers (Lg).… The bibliographic descriptions, and the reports on the contents of each item, are always clear and economical, and often include much more than required. With the Hebrides journal (J 33), for instance, we are told how Boswell got paper for the last of it, who read the journal in manuscript, when it was completed, and how it was revised for publication.… Cross-references regularly alert us to connections between letters, and in some cases to connections between items in other categories; and short narratives occasionally flesh out the stories that produced a variety of documents.… [T]his intelligently organized and meticulously detailed Catalogue will richly benefit not just Boswellians but all students of life in eighteenth-century Britain.
John Radner, PBSA, June 1995
The fortunes of the Boswell business have always seemed larger than life… and the whole project is much like the building of a great cathedral.… It took thirty years to put together this catalogue, and we shall be far into the next century before the majority of letters and other manuscripts catalogued here appear in print in the forty-odd volumes of the research edition yet to come.… Mrs. Pottle's Catalogue, in short, is going to be a terrifically valuable resource for eighteenth-century scholars for decades to come."
Richard B. Sher,  Eighteenth-Century Scotland, Spring 1993